Site Navigation

Laminated Elastomeric Bearing
To Contact Us
Tele: + 971 50 6268246
Fax: + 971 6 534 7707
....please copy and paste this email id...
pretread@eim.ae
Site Translation
Neoprene is Registered Trademark of DupontDow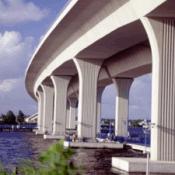 For regular archives
Click on below link to visit our regular archive on our site

Click to visit our
BLOGGER

archive's
Bridge Bearings - Frequently Asked Questions.
Many of the general Frequently asked questions (FAQ) on laminated bearings, slide bearings and pot bearings are answered in this page. Your suggestions and comments about this page will be highly appreciated so we could serve you better.Please email us comments and suggestions. (use the right side task bar to go to next Question)
Neoprene bridge bearings - plain or laminated - elastomeric bearings are much easier to install in a bridge than compared to other types of bearing used and elastomeric bearings require nil maintenance. Unlike most other elastomer, Neoprene rubber under-goes no marked stiffening at low temperature when the thermal contraction of the bridge deck is at maximum. Such stiffening could be deleterious to bearing and / or structure. Correctly-designed and suitably-compounded laminated Neoprene Rubber bridge bearings can be confidently expected to function efficiently for at least a decade even at different high variances of temperature.
As efficient bearing plates for pre-cast, pre-stressed concrete or steel beams in bridges and buildings, Neoprene Pads - plain and laminated - manufactured by us permits a smooth and uniform transfer of load from the beam to the substructure and allow beam rotation at the bearing due to deflect ion of the beam under load. They further allow lateral and longitudinal movement of the beam caused by thermal forces. Neoprene Pads have no movable parts and thermal expansion and contraction are absorbed by the pad's ability to give and take in shear. There is no sliding motion between pad and beam or between pad and abutment.
The material specifications for the elastomeric bearing shall meet all the current requirements of AASHTOM M 251.Bearing pads and elastomeric bearings will comply with Articles 18.2.3 through 18.2.6 of Section 18, Bearing Devices, Division II, Construction, of the AASHTO Standard Specifications for Highway Bridges. Bearing pads and laminated bearings shall be of the compound known as neoprene and shall be cast in molds under pressure and heat. A plain elastomeric bearing pad and steel load distribution plate combination shall be classified as a laminated elastomeric bearing. Test specimens shall be in accordance with ASTM D 3182 or D 3183. Where test specimens are cut from the finished product, a 20 percent variation from the original physical properties is allowed.
Elastomeric bearings shall be composed of multiple laminates of elastomeric material separated by steel reinforcing. The overall size of the bearing, the number of laminate and thickness of laminates are designed in accordance to the requirement of Load to be Transferred. Bearings having steel plates as reinforcement shall be cast/compression moulded/vulcanized as a single unit in a mould under pressure and heat.
Internal plates shall be ASTM A 36/A 36M or A 570/A 570M, Grade 36 or Grade 40. All plates shall be deburred. The internal plates shall not be less than 1.88 mm (0.074 inch) thick.The steel plates separating the elastomeric layers will be completely bonded by vulcanization to the elastomeric material on all surfaces using special metal to rubber bonding adhesive. All external load bearing steel plate(s) if present, shall be factory vulcanized to the elastomeric bearings during the primary molding process.
Acceptance Tests of the pads and bearings shall be according to Level I acceptance criteria of Article 18.2.5. This testing shall be included in the price bid for the bearings.
Yes, Mechanical bearings are also manufactured and supplied by us and further investments for plant up-gradation is under way.Please send us your requirement for Pot Bearings
In house Quick Production Test of all bearings shall be done at Clients/Representative presence. Tests confirming to AASHTO specification in accordance with Acceptance Testing on either Level I or Level II or Short/Long-Duration Compression Test up to 3400 kN with horizontal shear up to 180kN can be carried out in our facility.
Neoprene or Polychloroprene Rubber Compounds are used where Laminated Elastomeric bearings are designed, manufactured and tested in accordance to requirements with AASHTO M 251 .
Natural Rubber Compounds are used where Laminated Elastomeric bearings are designed, manufactured and tested in accordance to requirements with BS 5400 Part 9.
www.pretread.com you have your single relayable source for all your requirements of sliding bearing,expansion joints neoprene pads, manufactured from polychloroprene. Even for building bearings, expansion joints, elastomeric bearings, shock absorber mountings,and custom bridge bearings, manufactured to your specification, with approval from American Association of State Highway and Transportation Officials. Our PTFE laminated elastomeric bearings,bridge bearings, isolation pads,seismic isolators, and pot bearings are manufactured complying to US road transportation authority specifications.
Yes, we could assist you in verify load calculations for your bearings. Send us sizes, construction and load details of your bearings and we will send results on design parameters compared to AASHTO LRFD. Click to see sample report
Yes, we are the first manufacture to produce ptfe -TEFLON sliding bearings successfully in the middle east.Various projects have been supplied with our ptfe -teflon sliding bearings.
When horizontal movements are expected at high values over 50 mm and the vertical shear is low instead of using a thicker lamianted bearing, it would be ideal to use a ptfe sliding bearing with SS 316 mirror finish for a smoother long term application.
Yes, we will be happy to do designing of ptfe sliding bearings for you, and please send us the details.
Yes we have in house facility to design and manufacture pot bearings,Fixed pot bearings, Guided Sliding pot bearings and Free Sliding pot bearings.These are designed and manufactured to AASHTO standards.
Yes we can supply you with additional accessories and fixtures for installation of pot bearings like temporary bearings, ptfe sliding bearings, studs, base plates, masonry plates etc to AASHTO specifications.
Yes we do design,manufacture and support in installations of ptfe -TEFLON sliding bearings.
When the lateral movements required for structure are of greater values than the height of bearing it would be ideal to use a ptfe-TEFLON sliding bearing which and the friction coefficient between ptfe and Stainless Steel surface is less than 0.05 the service life of the bearings will be normally over 50 years.
Yes, we are the only manufacturer in Middle East who has in-house facility to test Laminated Bearings / Pot Bearings applying Vertical Load and Lateral Shear to confirm that Shear Modules confirms to specified for bearing designing.
Yes on our in-house Bearing Testing Machine can be used to test Teflon Sliding Bearing to note lateral sliding on required vertical loads.
Internal Lamination construction of Elastomeric Bearings are designed based on required Vertical Load /Lateral Shear, keeping Shear Modules value of rubber compound as required by Client / Bearing designer. Only through results obtained from Stress Strain Tests and graph plotted will prove that bearing manufactured meets the required values for Lateral Shear under vertical load. We are the only manufacturer in Middle East who has in-house facility to carry out these tests and confirm that Laminated Bearings manufactured by us meets the design parameters.
Clients / Consultants are welcomed to witness these tests and see our facility to test Laminated Bearings up to 3400 kN Vertical Load and Lateral Shear Load of 180 kN and a lateral movement of 100 mm.
Let us help you to design your requirements of elastomeric bearings. Please click on the links to visit our form fill up page and we can design bearings to your requirement
Thank you very much for visiting us.
Country Managers
we are seeking enterprising individuals with strong regional experiences to represent us in your country or area for our products. Please contact us with your product of interests.
Expansion Projects
For our up coming new expansion Project we are seeking partnership with any renowned Elastomeric Bearing or other rubber products manufacturer. Interested manufacturers please contact us.
Bearing Load Testing.
We are the first and only laminated bearing manufacturing facility in Middle East to have
an in-house bearing testing facility

to carry out tests confirming to AASHTO specification in accordance with Acceptance Testing on either Level I or Level II as well as Short/Long-Duration Compression Test. Our bearing testing machine can

test bearings to Vertical load of 4200 kN with horizontal shear load up to 400kN and movement to 100 mm.
Bearing Load Calculations
Let us verify
..load calculations..

for your bearings. On receipt of corbel size, and load details of your requirements, and we can provide calculations and bearings sizes based on results on design parameters compared to AASHTO LRFD - FREE.
Dealer-ship
Dealer ship and agency offered, please contact us with details on your organization,current activities and area of interest.Send us an email to:
pretread@eim.ae
Bearing Design
Let us help you to
design

your requirement of elastomeric bearings click on the links to visit Design a Bearing Form- - we can support you to design elastomeric bearings to requirement
Picture Gallery
Installed Bridge Bearing