Site Navigation

Laminated Elastomeric Bearing
To Contact Us
Tele: + 971 50 6268246 - (24- hours)
Fax: + 971 6 534 7707
....please copy and paste this email id to send us an email...
pretread@eim.ae
Site Translation
Neoprene is Registered Trademark of DupontDow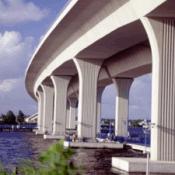 For regular archives
Click on below link to visit our regular archive on our site

Click to visit our
BLOGGER

archive's
BRIDGE BEARING TESTING
Neoprene Bearing Pads,neoprene bridge bearings, laminated elastomeric bearings,seismic isolators etc are generally known as bridge bearing pads in Construction industry and we at www.pretread.com manufacture them in our purpose built plant using high-grade virgin Neoprene - Polychloroprene Grade- 2 into a rubber compound to match AASHTO M 251 Specification under controlled heat and pressure.
Manufacturing of laminated bearings are done by many a rubber moulding companies around the world but....
how do you evaluate that these bearings will confirm with Vertical Load and lateral shear capabilities as specified by designer?. The only way is to test these bearings under real time load to ascertain deflection on vertical load and subject to tests to evaluate stress strain relation ship under lateral shear under your own eyes.
Testes to be carried out for conformity of acceptance on Laminated bearings.
Acceptance Testing AASHTO Level I or Level II
Stiffness in Compression- Vertical Deflection under Load
Stiffness in Shear-Stress Strain Relation ship under Vertical load & Lateral Shear.
The first testing facility in Middle East.
We are the only factory in Middle East and one among very few in world to have facility to carry out all these tests in house. Tests for Stiffness in Compression and Stiffness in Shear are carried out on our specially designed dedicated machine which can apply a vertical load up 4200 kN and apply a horizontal shear load up to 400kN and simultaneously movement up to 100 mm. Results are collected through high sensitive electronic sensors / load cells computed through software and reproduced as a plotted graph.
Following pictures shows testing being carried out on a lamainted Bridge Bearing of size 400x200x52 mm manufactured by us.
Bearing size 400 mm x200 mm x52 mm ::: Vertical and Horizontal Load test
(-click on the image to enlarge-)
| | |
| --- | --- |
| | |
| Under Vertical Load and Horizontal Load. | Nil Vertical and Horizontal Load |
| | |
| Horizontal movement - Left Direction | Horizontal movement - Right Direction |
| | |
| Horizontal Movement under destructive Test !!! Click on Pic to enlarge !!! | Horizontal Movement under destructive Test !!! Click on Pic to enlarge !!! |
This shows our capability,commitment to quality maintenance, quality control methods, and expertise in controlling it. Under one roof with stringent quality control we manufacture bridge bearings, laminate elastomer bearings, elastomeric bearing, bearing pads, pot bearings,PTFE sliding bearing, molded, extrude rubber products in the Middle East. manufactured to AASHTO specifications in the Middle East U.A.E.
Please browse through our web site for more information and contact us for further details and inquires for neoprene bridge bearings,bridge bearing, bearing pads, laminated elastomeric bearings, precure tread rubber, retread equipments, moulded rubber products molded rubber,rubber products.
Country Managers
we are seeking enterprising individuals with strong regional experiences to represent us in your country or area for our products. Please contact us with your product of interests.
Expansion Projects
For our up coming new expansion Project we are seeking partnership with any renowned Elastomeric Bearing or other rubber products manufacturer. Interested manufacturers please contact us.
Bearing Load Testing.
We are the first and only laminated bearing manufacturing facility in Middle East to have
an in-house bearing testing facility

to carry out tests confirming to AASHTO specification in accordance with Acceptance Testing on either Level I or Level II as well as Short/Long-Duration Compression Test. Our bearing testing machine can

test bearings to Vertical load of 4200 kN with horizontal shear load up to 400kN and movement to 100 mm.
Bearing Load Calculations
Let us verify
..load calculations..

for your bearings. On receipt of corbel size, and load details of your requirements, and we can provide calculations and bearings sizes based on results on design parameters compared to AASHTO LRFD - FREE.
Dealer-ship
Dealer ship and agency offered, please contact us with details on your organization,current activities and area of interest.Send us an email to:
pretread@eim.ae
Bearing Design
Let us help you to
design

your requirement of elastomeric bearings click on the links to visit Design a Bearing Form- - we can support you to design elastomeric bearings to requirement
Picture Gallery
Installed Bridge Bearing