Site Navigation

Laminated Elastomeric Bearing
To Contact Us
Tele: + 971 50 6268246
Fax: + 971 6 534 7707
....please copy and paste this email id...
pretread@eim.ae
Site Translation
Neoprene is Registered Trademark of DupontDow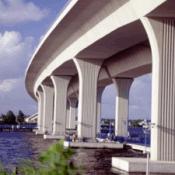 For regular archives
Click on below link to visit our regular archive on our site

Click to visit our
BLOGGER

archive's
LEAD RUBBER BEARINGS
Laminated Elastomeric Bearings with one or more lead cylinder / plug in the center are named as lead core rubber bearings where these lead plug facilitates very effective damping during extreme movements of these bearings.
Lead core rubber bearings and how they can help reduces damages of a major earthquake is explained here
Recent devastation of many earthquakes and tidal wave activities around the world has awakened many designers in construction industry and subject that is much looked up is to design structures such a way that even after seismic activates much less damages can be incurred, resulting less human causalities.
Few of points raised by structural designers are conventional approachs - earthquake resistant design of buildings; providing building with strength, stiffness and inelastic deformation capacity which are great enough to withstand a given level of earthquake generated force.
Above can be generally accomplished through selection of an appropriate structural configuration and with careful detailing of structural members, such as beams and columns, and connections between them etc
Few designers have recommended additional to above basic approach for earthquake resistance, not only to strengthen building structure, but to look at options to reduce earthquake-generated forces acting upon it.
Among most important advanced techniques of earthquake resistant design and construction are
base isolation system.
What are base isolated structure. ?
A base isolated structure is one, which is supported on a series of isolation supports, which are placed between building and its foundation. Many structural designers have developed different types of base isolation systems around the world and one of them, which is practical and cost effictive is usage of lead-rubber bearings.
A lead rubber bearing is nothing else but a bigger laminated bearing manufactured from layers of rubber, sandwiched together with layers of steel, except for that in middle of bearing there will be a solid lead "plug." Top and bottom of the bearing is fitted with steel plates, which are used to attach bearing to building through its foundation. These lead rubber bearings are designed in such a way that bearing is very stiff and strong in vertical direction, but flexible in horizontal direction.
How does base isolation work?
To get a basic idea of how base isolation works with lead rubber bearings, let us examine how will an earthquake act up on both base isolated building where super structure is attached to foundations through a sets of lead rubber bearings and a standard conventional fixed base building where super structure is attached direct to its foundation.
As a result of an earthquake, ground beneath building begins to move. Each building responds with movement: which tends toward opposite side of movement of ground. In reality buildings undergoes displacement towards opposite side of ground movement. This building's displacement in direction opposite ground motion is actually due to
inertia.

The inertial forces acting on a building are the most important of all those generated during an earthquake.
The inertial forces by which a building undergoes at time of a major earthquake are proportional to building's acceleration during ground motion so buildings don't actually shift in not only in one direction but because of complex nature of earthquake ground motion, building tends to vibrate back and forth in varying directions.
In addition to displacing toward one side, the un-isolated building (with out lead rubber bearing) will be changing its shape-from a rectangle to a parallelogram, basically deforming the building. The primary cause of earthquake damage to buildings is deformation by which building undergoes as a result of inertial forces acting upon it.
By contrast, even though building with base isolation too is being displaced, under different directional movement of ground due to earthquake, building with lead rubber bearing base-isolation retains its original, rectangular shape and it will be the lead-rubber bearings supporting the building that will be deformed. The base-isolated building itself escapes deformation and damage--which implies that inertial forces acting on base-isolated building have been reduced by the usage of proper lead rubber bearings.
Experiments and observations of base-isolated buildings in earthquakes have been shown to reduce building accelerations to as little as one fouth of acceleration of comparable to fixed-base buildings, which each building undergoes as a percentage of gravity as inertial forces increase, and decrease, proportionally as acceleration increases or decreases. Acceleration is decreased because lead rubber base isolation system lengthens a building's period of vibration, (the time it takes for the building to rock back and forth and then back again). And in general, structures with longer periods of vibration tend to reduce acceleration, while those with shorter periods tend to increase or amplify acceleration. Advantages of Lead Center core in Bearings.
Finally, during and after a seismic activities on a building with lead rubber bearing base isolation, what happens to lead rubber bearings?. Main body of the bearing, rubber being highly elastic, does not suffer any damages, where as lead plug in middle of bearing will experience the same deformation as rubber but generates heat and reduces in size, or dissipates, energy of motion--i.e., kinetic energy--by converting that energy into heat, also thus by reducing the energy entering building. This helps to slow and eventually stop the building's vibrations sooner than would otherwise be the case: helping to dampen building's vibrations.
(Damping is the fundamental property of all vibrating bodies, which tends to absorb the body's energy of motion, and thus reduce the amplitude of vibrations until the body's motion)

.
Thus, lead inserted as center core of bearing dissipates the energy of earthquake while the rubber, reinforced with steel plates, provides stability, supports structure and isolates vibrations. LRB bearings also provide excellent base isolation provided there is enough space for bearing and thermal movements are not too extreme.
Lead rubber bearings can, not only be used with new building but also can be incorporated into foundations of existing buildings. We at pretread.com are currently involved with many designers in designing and manufacture of these lead rubber bearings from our plant in UAE. We not only consider this as a challenge but also looks up as our responsibility to mankind and help save as mush lives as possible. Hence you are requested to contact us with your requirements and we will be glad to help.
Design Parameter followed for Lead Rubber Bearings
Design parameters followed for Lead Rubber Bearings are AASHTO/DIN and BS
High Damping Rubber Bearing (HDRB)
High Damping Rubber Bearing (HDRB) - as an alternative to the lead rubber bearing. We offer
high damping rubber bearing

which is ideal for seismic isolation with one device - supporting the structure, providing the elastic restoring force and also the required amount of damping up to a maximum of 10-15% of critical. High Damping rubber bearing are most advantageous when the movements encountered are not large and there is room for the increased height of the bearing. Moderate damping is achieved with this type of the bearing.
Bearing Load Calculations
Let us verify load calculations for your bearings. Send us sizes, construction and load details of your bearings and we will send results on design parameters compared to AASHTO LRFD.
To View: a sample page in .pdf on bearing deigning calculations Click to see sample
Sizes of Plain and Laminated Elastomeric Bearings manufactured by us.
Let us help you to design your requirements of elastomeric bearings. Please click on the links to visit our form fill up page and we can design bearings to your requirement
Disclaimer.
The data and commentary contained within this website is for general information purposes only. It is provided without warranty of any kind. www.pretread.com shall not be held responsible for any errors, omissions, or misuse of any of the enclosed information and hereby disclaims any and all liability resulting from the ability or inability to use the information contained herein. Anyone making use of this material does so at his or her risk. In no event will www.pretread.com. be held liable for any damages including lost profits, lost savings, or other incidental or consequential damages arriving from the use or inability to use the information contained within. www.pretread.com suggests contacting to contact us for suitability for a particular application in rubber products.
Thank you very much for visiting us.
Country Managers
we are seeking enterprising individuals with strong regional experiences to represent us in your country or area for our products. Please contact us with your product of interests.
Expansion Projects
For our up coming new expansion Project we are seeking partnership with any renowned Elastomeric Bearing or other rubber products manufacturer. Interested manufacturers please contact us.
Bearing Load Testing.
We are the first and only laminated bearing manufacturing facility in Middle East to have
an in-house bearing testing facility

to carry out tests confirming to AASHTO specification in accordance with Acceptance Testing on either Level I or Level II as well as Short/Long-Duration Compression Test. Our bearing testing machine can

test bearings to Vertical load of 4200 kN with horizontal shear load up to 400kN and movement to 100 mm.
Bearing Load Calculations
Let us verify
..load calculations..

for your bearings. On receipt of corbel size, and load details of your requirements, and we can provide calculations and bearings sizes based on results on design parameters compared to AASHTO LRFD - FREE.
Dealer-ship
Dealer ship and agency offered, please contact us with details on your organization,current activities and area of interest.Send us an email to:
pretread@eim.ae
Bearing Design
Let us help you to
design

your requirement of elastomeric bearings click on the links to visit Design a Bearing Form- - we can support you to design elastomeric bearings to requirement
Picture Gallery
Installed Bridge Bearing