Site Navigation

Laminated Elastomeric Bearing
Our Technical and Marketing Partner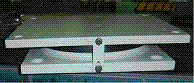 From the Webmaster
Your valuable comments and opinion on this website will be highly appreciated: WebWiz
To contact us
Please contact us by email : Email
Tele: + 971 50 6268246
Fax: + 971 6 534 7707
Email: awphdxb@emirates.net.ae
Site Translation
Downloads

Moulded Rubber Products.(Molded Rubber)
Welcome to www.pretread.com your single source for rubber products manufactured by compression moulding includes Elastomeric Bearings, Laminated Bearings, Elastomeric Pads, Anti-vibration Pad, and other Industrial Engineered Rubber Products.Molded rubber parts are our speciality. We manufacture molded rubber products, including rubber mountings,molded O rings, custom molded rubber products, moulded rubber parts , custom moldings to your requirements.
Most of the moulded rubber products are manufactured under Compression moulding method or transfer moulding method. Let your requirement be any of the molded rubber products, including large rubber mountings, for equipment, vessels, or seismic isolators, or small molded O rings, pipe expansion joints or any other custom molded rubber products, we take care of all custom moldings even for small quantity.
In the case of Laminated Elastomeric Bearings or other rubber mountings, with metal insertions, metal to rubber bondings are done through care full manufacturing process using chemically reactive cements manufactured by reputed international manufacturers like M/s.Lord Corporation. Details on these cements/adhesives can be obtained from Metal to rubber bonding adhesives
List of Polymer handled by us:
Neoprene-polychloroprene Rubbers.

Styrene-Butadiene Rubbers.

E P D M.

Natural Rubbers.

Ethylene-Propylene Rubber.

Nitrile Rubbers.

Fluorocarbon Rubbers.

Polyurethane Rubbers.

Silicon Rubbers.
Polymer Sclection
How to seclect the right polymer for your application
May be you have a special requirement .. let it be SMALL or big so why not try us once..click on the below link and will lead into the charts to sclect the right polymer for your application.
Please browse through our web site for more information and contact us for further details and inquires for neoprene bridge bearings,bridge bearing, bearing pads, laminated elastomeric bearings, precure tread rubber, retread equipment, moulded rubber products molded rubber,rubber products.
Thank you very much for visiting us
F A Q
Frequently asked question on laminated elastomeric bearings.
Bearing Load Calculations
Let us verify
load calculations

for your bearings. Send us sizes, construction and load details of your bearings and we will send results on design parameters compared to AASHTO LRFD
Dealer ship
Dealer ship and agency offered for North American and European market please contact us with details on your organization,current activities and area of interest:
Bearing Design
Let us help you to
design

your requirement of elastomeric bearings click on the links to visit Design a Bearing Form- - we can support you to design elastomeric bearings to requirement
Gallery
Installed Bridge Bearing