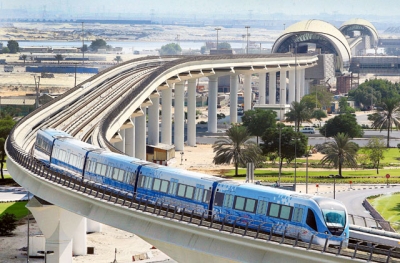 PROJECTS – Dubai Metro 
The Dubai Metro is first Metro services in Middle east, in United Arab Emirates city of Dubai. A  fully automated and driverless  metro rail network operational from 2009. Some lines run underground in  city Centre and on elevated viaducts elsewhere (elevated railway). All stations and trains are air conditioned to meet high summer heat of Middle East.
Engineering consultancy Atkins provided total multidisciplinary design and management of civil works  and Architecture firm Aedas  designed architecture  for Dubai Metro's  stations, two depots and operational control center. Construction of  Dubai Metro was undertaken by Japan Turkey Metro JV (JT Metro)  and  Al Ghurair Investment group managed investments .
Dubai Metro has been declared by Guinness World Records as world's longest fully automated Metro Network.
Pretread.com is proud to be associated with Dubai Metro and was involved in design, manufacturing and testing of elastomeric bearings used in Dubai Metro. 35% of Laminated Elastomeric Bearings used in Dubai Metro was supplied by Pretread.com, our in-house facility was used by JT Metro JV for testing of bearings, its functionality and its accessories. 
Different sizes of Laminated Elastomeric bearings  - Type C EN 1337  - used for Dubai Metro elevated viaducts was developed by pretread.com for initial testing and type testing, where it was proven through tests to give friction coefficient > 0.5  -  precondition of designers. -between concrete surface  and bearings, which never could have been achieved with elastomeric bearings. 
After 7 years of installation of 1st set of elastomeric bearings supplied by pretred.com all > 2000 bearings and functioning properly , with our any complaints from the current maintenance team of Dubai Metro under RTA . Non of these elastomeric bearings supplied by pretred.com has been replaced so far. 
Being  first laminated bearing manufacturing facility in Middle East established from 1999 to have an in-house bearing testing facility to carry out tests confirming to AASHTO /EN specification. Under one roof with stringent quality control, ISO certification for  design manufacturing and testing  with technical and marketing support from Technical Partners we were able to attain such a state in quality assurances.
Rizzani de Eccher, in a Joint Venture with VSL and Freyssinet, undertook the contract for construction of  viaduct and all launching bearings for  launching girder  was manufactured and supplied by Pretread.com , saving a cost reduction over 60% to initial budgeted number of laminated elastomeric bearings accounted for using in  launching.