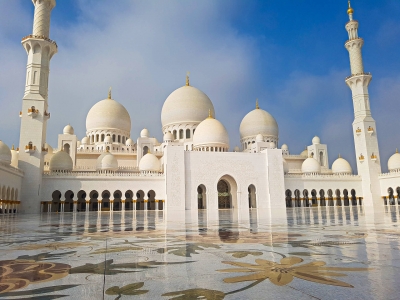 Pretread.com having manufacturing  facility in Dubai  United Arab emirates demonstrates in following Project example how  ptfe bearings,  ptfe sliding bearings  with neoprene bearing pad and ptfe sheets  staleness steel, how design and  fabrication of sliding bearing  ptfe slide plates can support continues floor casting with out any expansion joints and gaps.
Sheikh Zayed Grand Mosque located in Abu Dhabi, capital city of  United Arab Emirates  is considered to be largest mosque in United Arab Emirates,  construction  was initiated by  late president His HighnessSheikh Zayed bin Sultan Al Nahyan, to establish a structure of worship unites cultural diversity of Islamic world, historical and modern values of architecture and art.
Grand Mosque has many special and unique construction elements, Mosque is large enough to accommodate over 40,000 worshipers, main prayer hall  can accommodate over 7,000 worshipers. There are two smaller prayer halls, having  a 1,500-capacity. The courtyard,  its floral design, measures about 17,000 m2 ,and is considered to be largest example of marble mosaic in the world with no expansion joints.
Carpet in  main prayer hall is considered to be world's largest carpet measures 5,627 mtr sq and it was  most challenging  for structural designers to cast a floor no expansion joints to accommodate such a big carpet , joint free. The weight of this carpet is 35 ton and is predominantly made from wool there are 2,268,000,000 knots  the carpet so even an expansion of 5 mm on a long term would damage it forever.
It was a very difficult task for construction team to go continues casting of floor without any expansion joints, a must from the carpet manufacturer was made possible by pretread.com by designing and manufacturing ptfe sliding bearings on total floor theoretically floats. These sliding bearings were made of  ptfe and  neoprene and stainless steel, as a composite product..  
Ptfe sliding support bearing were manufactured using ptfe sheets, factory hot bonded neoprene elastomer as base bearing and 316 stainless steel plates were used as top sliding element . Fabrication hot bonding sliding bearing with ptfe Teflon and neoprene pad was first achieved,. Source of virgin ptfe and Neoprene were from Europe and everything manufactured in our plant in  Dubai UAE. So the courtyard stand on 1444 piers and the floor floats on them ptfe sliding bearing between them.
Ptfe bearings system on top of foundation neoprene bearing pad works to absorb all  vertical load exerted on foundation  and ptfe with stainless steel allowing all horizontal movement, absence of expansion joint there is no stretching effects on the carpets.  Absence of a joint  expansion and contraction of concrete  with ptfe sliding bearings allows  sliding as well as supports on neoprene bearing pads. Sliding I always between  ptfe  sheets  bonded on neoprene  and  stainless steel.