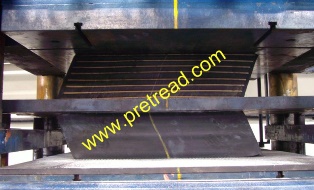 Neoprene Bearing Pads,neoprene bridge bearings, laminated elastomeric bearings,seismic isolators etc are generally known as bridge bearing pads in Construction industry and we at www.pretread.com manufacture them in our purpose built plant using high-grade virgin Neoprene - Polychloroprene Grade- 2 into a rubber compound to match AASHTO M 251 Specification under controlled heat and pressure.
Manufacturing of laminated bearings are done by many a rubber moulding companies around the world but to evaluate that these bearings will confirm with Vertical Load and lateral shear capabilities as specified by designer?. The only way is to test these bearings under real time load to ascertain deflection on vertical load and subject to tests to evaluate stress strain relation ship under lateral shear under own eyes or witnessed by a qualified 3rd party Engineer.
List of bearing types that can be tested in our facility .
Plain elastomeric bearings.

Laminated elastomeric bearings.

Steel pot bearing

spherical bearings

ptfe sliding bearings
Testes to be carried out for conformity of acceptance on bridge bearings.
Acceptance Testing AASHTO Level I or Level II

Stiffness in Compression- Vertical Deflection under Load

Stiffness in Shear-Stress Strain Relation -Shear modules

Friction Coefficient - between ptfe and sliding plates

Friction Coefficient - between concrete and bearings
The first testing facility in middle east UAE dubai eastablished from 2003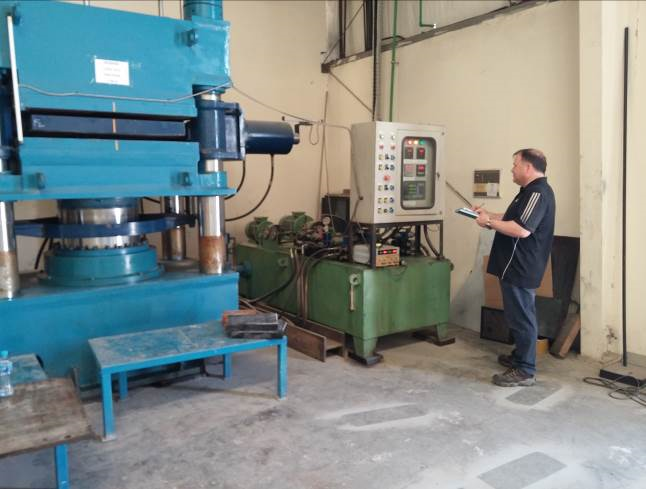 Established from 1999 and having first bearing testing facility one and only factory in Middle East UAE dubai and one among very few in world to have facility to carry out all these tests in house. Tests for Stiffness in Compression and Stiffness in Shear are carried out on our specially designed dedicated machine which can apply a vertical load up 10000 kN and apply a horizontal shear load up to1400kN and simultaneously movement up to 150 mm. Results are collected through high sensitive electronic sensors / load cells computed through software and reproduced as a plotted graph.
So fo your requirement of quality bridge bearing with bridge bearing load testing, bridge bearing testing including ,vertical load testing test methods ,elastomeric bridge bearing testing, in house testing facility, lateral shear test ,vertical ,vertical load, shear stiffness, shear modules values of elastomeric contact ,www.pretread.com, uae dubai where one and only local testing facility vertical load up to 10000 kn